Glenn Creek Nature Preserve is a two-acre bioreserve of native Piedmont Habitat maintained by neighbors and owned by the City of Decatur. Glenn Creek (formerly Hunter's Branch) runs through the property and is part of the South Fork Peachtree sub-watershed.
Volunteers learn about native species of the Georgia Piedmont, forest and stream bank restoration, adopt -stream program, and greenspace management. The preserve is open to the public.
For more information or to volunteer, please contact Neil Norton , 404-378-7939
News iiiiiiiiiiiiiiiiii
Please Join Us For Fall 2015 Volunteer Days:
Saturday, Oct 10, 9-12pm
Saturday, December 5, 9-12pm

Like our Facebook Page for recent photos and projects.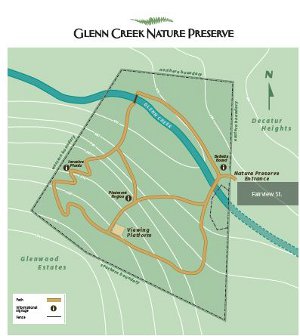 click map for full sized document